Development of multi-specific Nanofitin® molecules against lung infections
Affilogic started to develop multi-specific Nanofitin® molecules targeting global health pathogens for a treatment & vaccination approach. One particular objective is to protect individuals in lower middle income countries from infectious diseases. Such research activities are supported by a grant of $1.063M from the Bill & Melinda Gates Foundation.
Nanofitins® being 20 times smaller than antibodies, highly soluble and extremely stable proteins, they can be delivered into the lungs to address respiratory indications locally.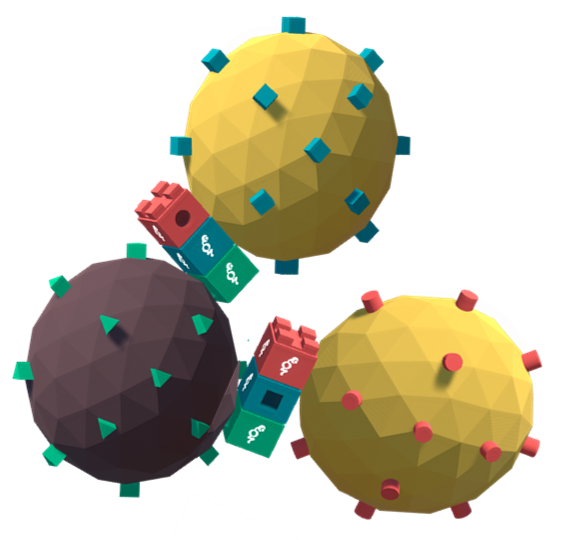 ---
One scaffold, several approaches: tackling cancer diseases with Nanofitins @PEGS2022
Mathieu Cinier to present a poster showing latest data of Nanofitin used as cancer targeted therapies. Nanofitins display multiple advantages making them very attractive alternative scaffolds for cancer treatment.
---
Affilogic and Apellis expand R&D collaboration to develop targeted complement therapies for delivery into the brain.
Apellis Pharmaceuticals, Inc. and Affilogic today announced that the companies have expanded their research and development (R&D) collaboration, which was initially formed in 2018, to include the development of Nanofitins® targeting the transferrin receptor (TfR), which enables drugs to be transported across the blood brain barrier and into the central nervous system.
Read more

---
Apellis and Affilogic published on the discovery of a novel, high-affinity Nanofitin inhibitor of C3-mediated complement activation
Apellis in collaboration with Affilogic published on the discovery of a novel, high-affinity Nanofitin inhibitor of C3-mediated complement activation, named APL-1030. Read more
---
Albumin binding Nanofitins, a new scaffold to extend half-life of biologics – a case study with Sanofi with their Exenatide peptide.
Affilogic published with Sanofi on using albumin binding Nanofitins as a half-life extension module with Exenatide biologically active. Read more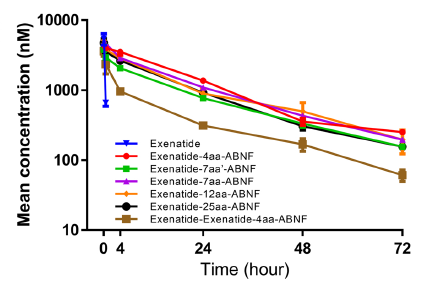 ---
"Respitude" Affilogic's project laureate of the AMI "Nouvelles Biothérapies & outils de production".
The "Respitude project support the development of a candidate Nanofitin simultaneously targeting multiple epitopes of the SARS-Cov2 S surface protein, neutralizing its interaction with cells, and take it to phase I/IIa clinical stage.
Nanofitins being 20 times smaller than antibodies, highly soluble and extremely stable proteins, they can be easily nebulized. Affilogic already demonstrated bio-distribution of Nanofitins into different compartments of the lungs in animal models. Read More
The #FranceRelance investment plan includes 800 Million Euros (from #PIA), to help biotherapies development, stimulate competitiveness and follow the development of the French industrial environment which is necessary in order to no longer depend 95% on foreign biotherapies.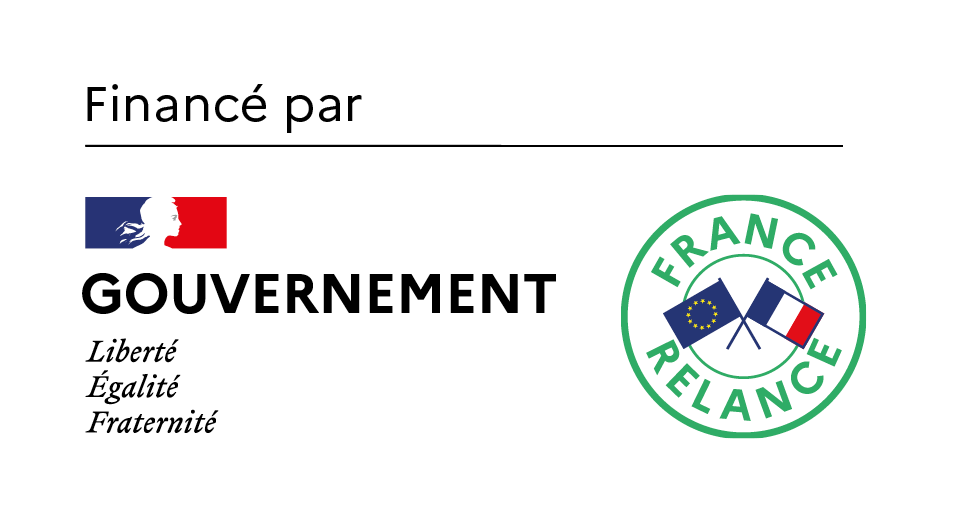 ---
Development of multispecific assemblies of Nanofitins® with anti-tumor activities @ PEGS Europe 2021
Ms. Perrine Jacquot, Ph.D. student working at Affilogic and at the Western Cancer Institute (Institut de Cancérologie de l'Ouest, Saint-Herblain, France) presented her latest results in November in Barcelona during PEGS Europe 2021. Read more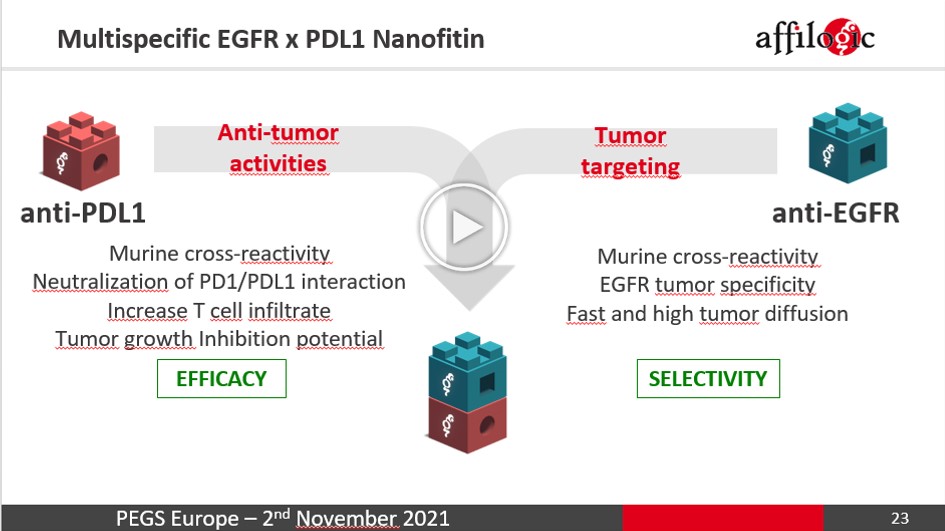 Nanofitins targeting heat shock protein 110: an innovative immunotherapeutic modality in cancer
Affilogic to receive public funding for a new production unit as winner of the French industrial relocation plan
Affilogic is one of the first 31 winners of the industrial relocation plan recently unveiled by the Minister of the Economy, Bruno Le Maire. Within three years, it wants to create a production unit for the Nanofitins, synthetic proteins (…), which are designed to attach themselves to a chosen biological target to purify it, detect it, or block its action. These molecules are used in particular to inhibit pathological mechanisms. "The major pathologies targeted include Crohn's disease, pancreatic cancer, brain and ophthalmic diseases," explains Olivier Kitten, the CEO. "(…) Today, we want to create a 1,500 m² unit in the Nantes region to multiply our production capacity by a factor of 100. » With this €5 million investment, Affilogic is set to double its workforce (currently 25 people) in Nantes over three years.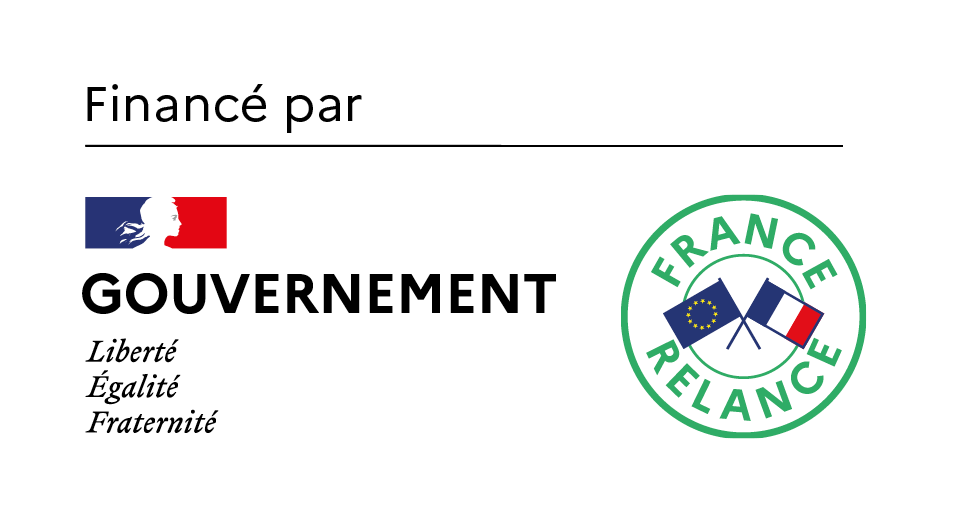 ---
Development of multispecific assemblies of Nanofitins with anti-tumor activities @ the 8th Antibody Industrial Symposium 2020
Digital, November 2020
Affilogic is developing a new anti-cancer therapeutic approach. Different multispecific assemblies of Nanofitins are developed with a variation of the modules that compose them. In order to potentiate the anti-tumor response, the choice of Nanofitin modules to assemble focuses on those with activities involved in cancer synergistic signaling pathways. Read more

This project was partially sponsored from January 2018 to December 2020 by a grant from the European Regional Development Fund (ERDF / FEDER) via the Region Pays de Loire.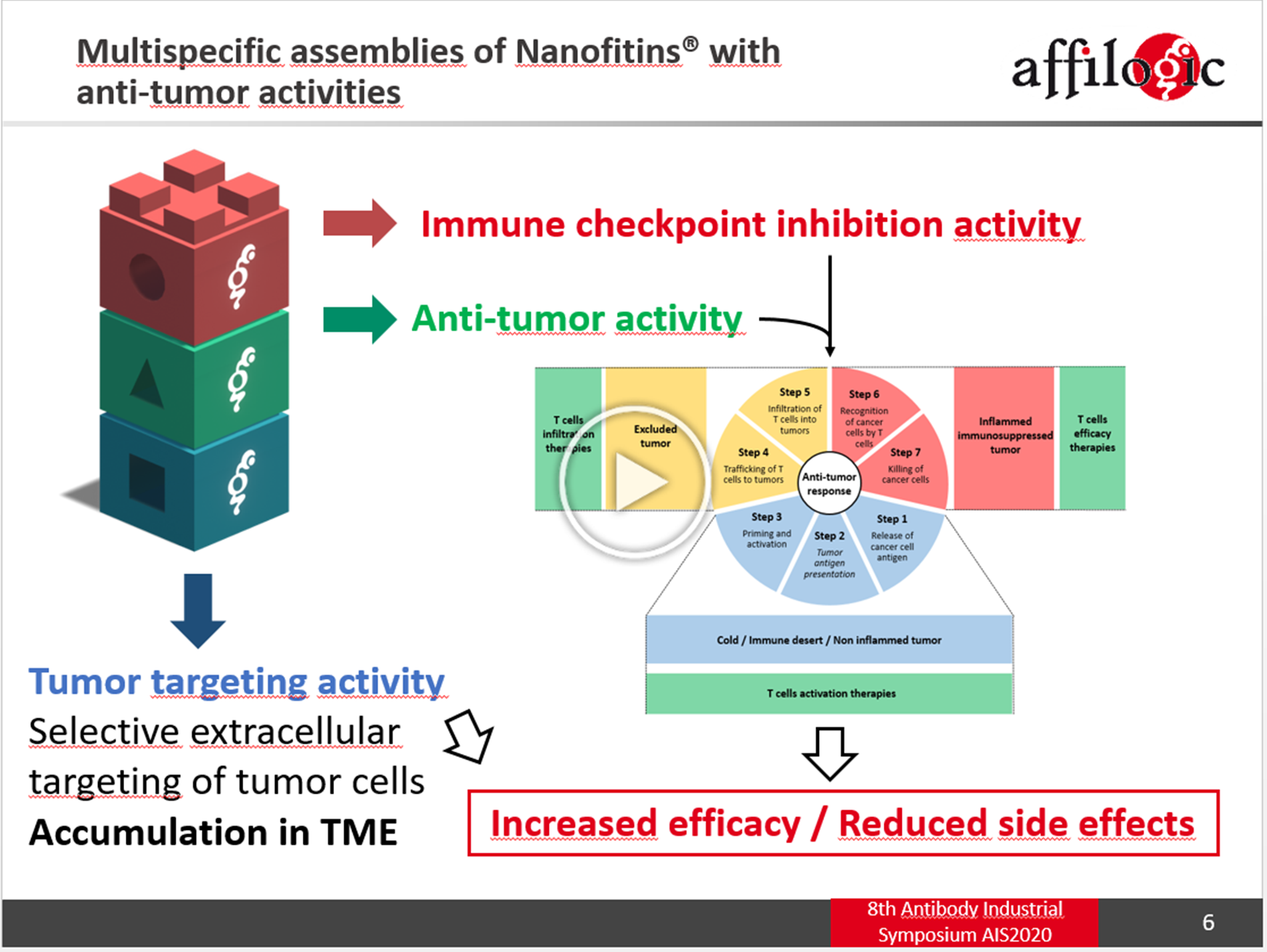 ---
One molecule, several targets!
Multispecific Nanofitin assemblies for modulating the tumor microenvironment @ PEGS Europe 2020
Digital, November 2020
Many efforts have been devoted in recent years towards reconditioning the tumor microenvironment to mount an immune response against the tumor. While holding promises, our understanding of the manipulation of the immune system remains limited and has to be addressed with other technical challenges, such as tumor penetration, off-target systemic toxicity, and simultaneous co-engagement of several tumor progression pathways. We will be sharing our strategy to answer these different challenges using the Nanofitin scaffold, with examples of multispecific constructions directed against several tumor progression pathways (angiogenesis, T cell population, and macrophage differentiation).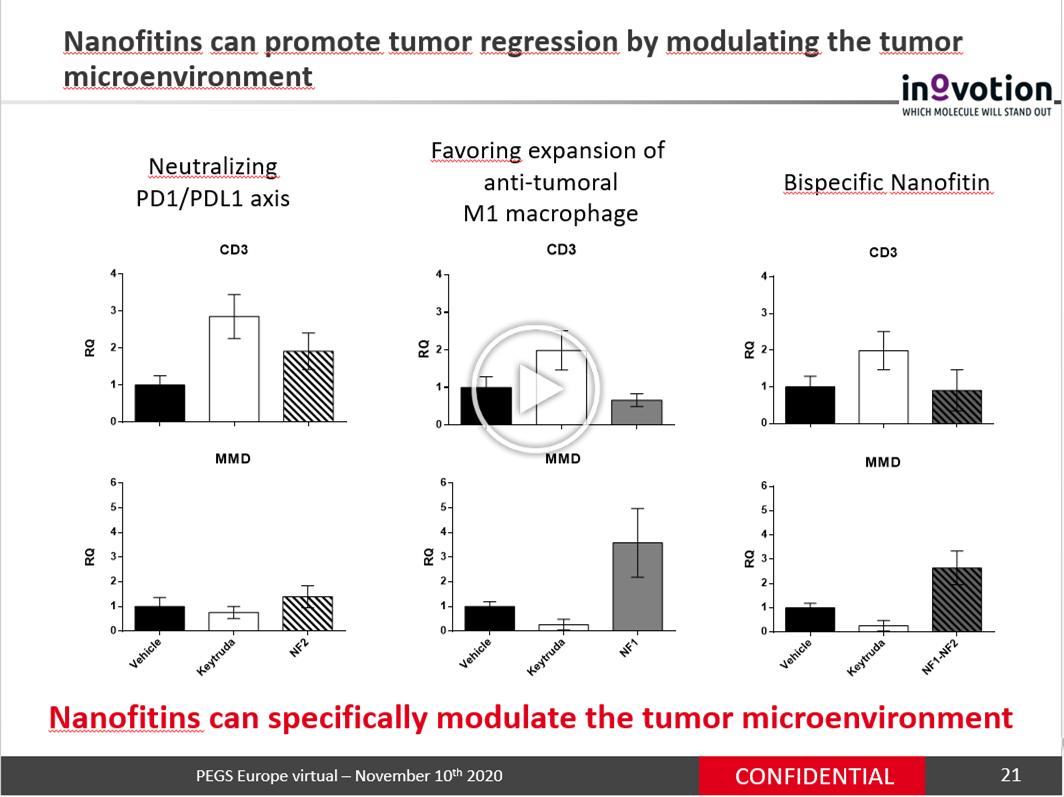 ---