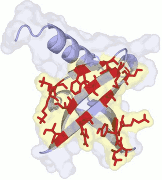 Affilogic is a biotech company developing a new class of proprietary affinity ligands: Nanofitins®
Nanofitins® are able to selectively bind a wide range of targets and have proven excellent tools for:
Targeting (immunolocalization, in vivo neutralization)
Capture (affinity chromatography, protein removal,…)
Detection (immunoassays, Western Blot,…)
Nanofitins® constitute a robust and affordable alternative to antibodies.
---
Discussion forum
Any question or comment on
Nanofitins® ?
Let us know by leaving a message.