My Thesis in 180 Seconds by Perrine Jacquot
The Affilogic Team is very proud to announce that one of its Ph.D. student, Ms. Perrine Jacquot, has participated to the international competition My Thesis in 180 Seconds. Since Summer 2019, Perrine has been working on the "Development of a multi-specific combination of nanofitins exhibiting anti-tumor activity" at Affilogic and at the Western Cancer Institute (Institut de Cancérologie de l'Ouest, Saint-Herblain, France). To relive her performance, please click below !
Affilogic's intervention at PEGS Europe 2019
Lisbon, Portugal, November 2019
This year at the PEGS Europe 2019 congress, Dr. Mathieu Cinier has been co-presenting the short course entitled "Engineering of Bispecific Antibodies and Multi-Specific Non Antibody Scaffolds".
Non-antibody scaffolds represent a new class of therapeutic molecules that fill a molecular weight gap between antibodies and peptides. While sharing the high specificity and potency of antibodies, their low molecular weight and simple structure make them amenable to peptide-like properties such as high tissue penetration. They are also easy to assemble, providing then a straightforward "plug and play" approach to combine active modules into a single molecule that displays the desired druglike properties. At the age of multi-functional therapeutic molecules, non-antibody scaffolds continue to rise up with an increasing number of ongoing clinical phases, making them valuable assets in the landscape of next generation biologics.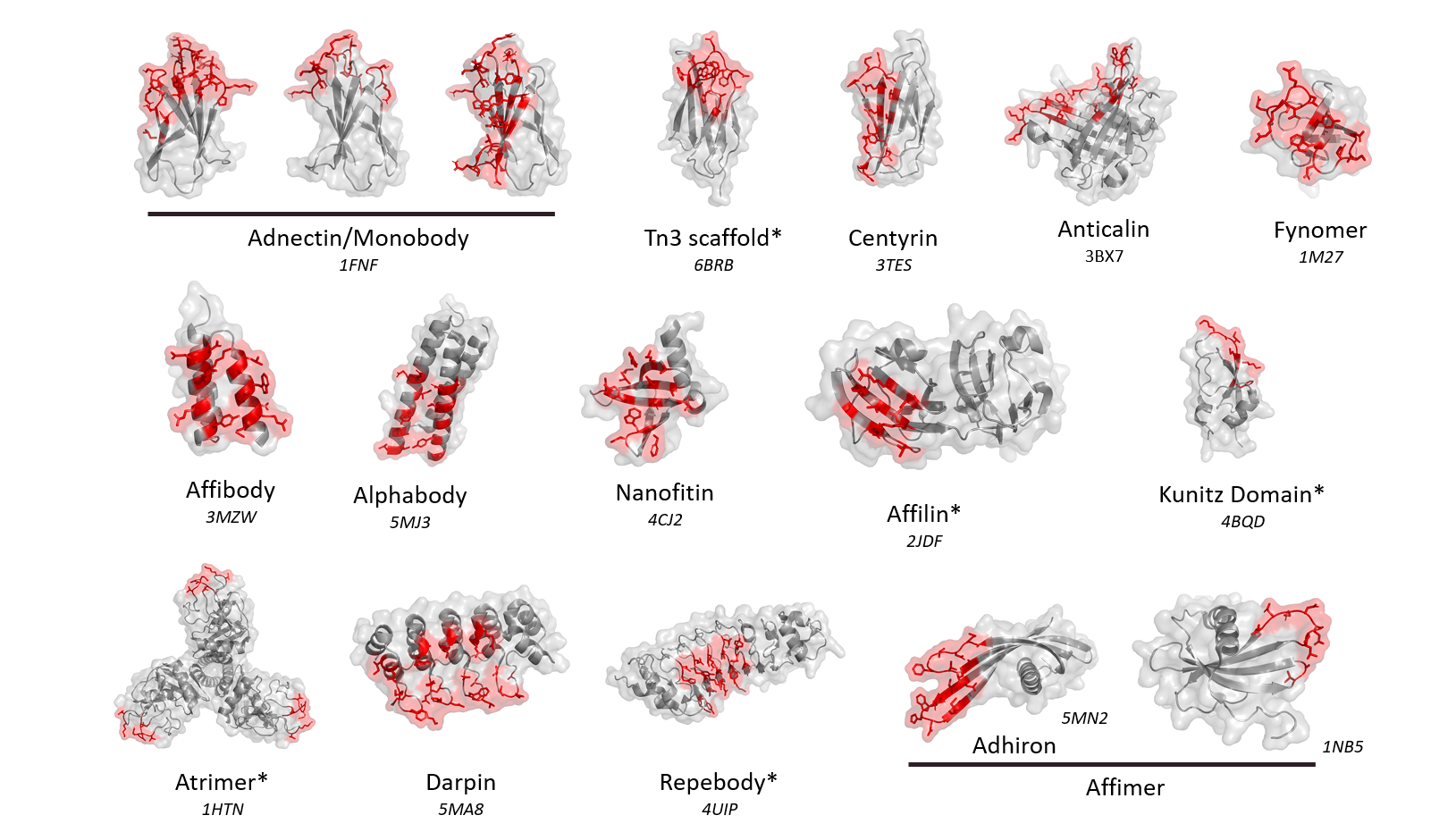 Diversity of folds and library designs
---
Affilogic at BIO 2019 : "Partnering is in our DNA"
Philadelphia, Pennsylvania, June 2019
---
Nanofitin-Antibody fusion as a novel multispecific platform: providing extra specificities while maintaining developability
Webinar Oxford Global, June 2019
Building on antibody expertise, many different bispecific formats have been engineered to allow the additional neutralization of an escaping pathway or the recruitment of effectors, but often at the expense of the overall physico-chemical properties of the biologic itself compared to the actual state of the art for monoclonal antibodies. Nanofitin-Antibody fusion is proposed as a novel multispecific platform, whereby additional targeting specificities are provided by the fusion of Nanofitins to existing antibodies without altering their initial physico-chemical properties.
Nanofitin is a small (7 kDa) single chain, hyperstable, cysteine-free, and highly soluble alternative scaffold that can be custom-engineered for a defined targeting specificity. Nanofitins are easily assembled with each other or with third-party molecules such as antibodies by simple, rapid and proven methods to design an ideal targeted molecule. With the strong rational behind the targeting of multiple disease pathways, the trend is moving smoothly from the design of bispecific to multi-specific antibodies, which could be easily adapted with Nanofitins. Thanks to their small size, Nanofitins can be plugged on an antibody at different locations, either as a single module or as an assembly, while still providing a minimal hindrance on the antibody that retain its functionality. Resulting Nanofitin-Antibody fusions benefit from the high stability and solubility of the Nanofitin scaffold, providing to the Nanofitin-based multi-specific platform a developablility advantage.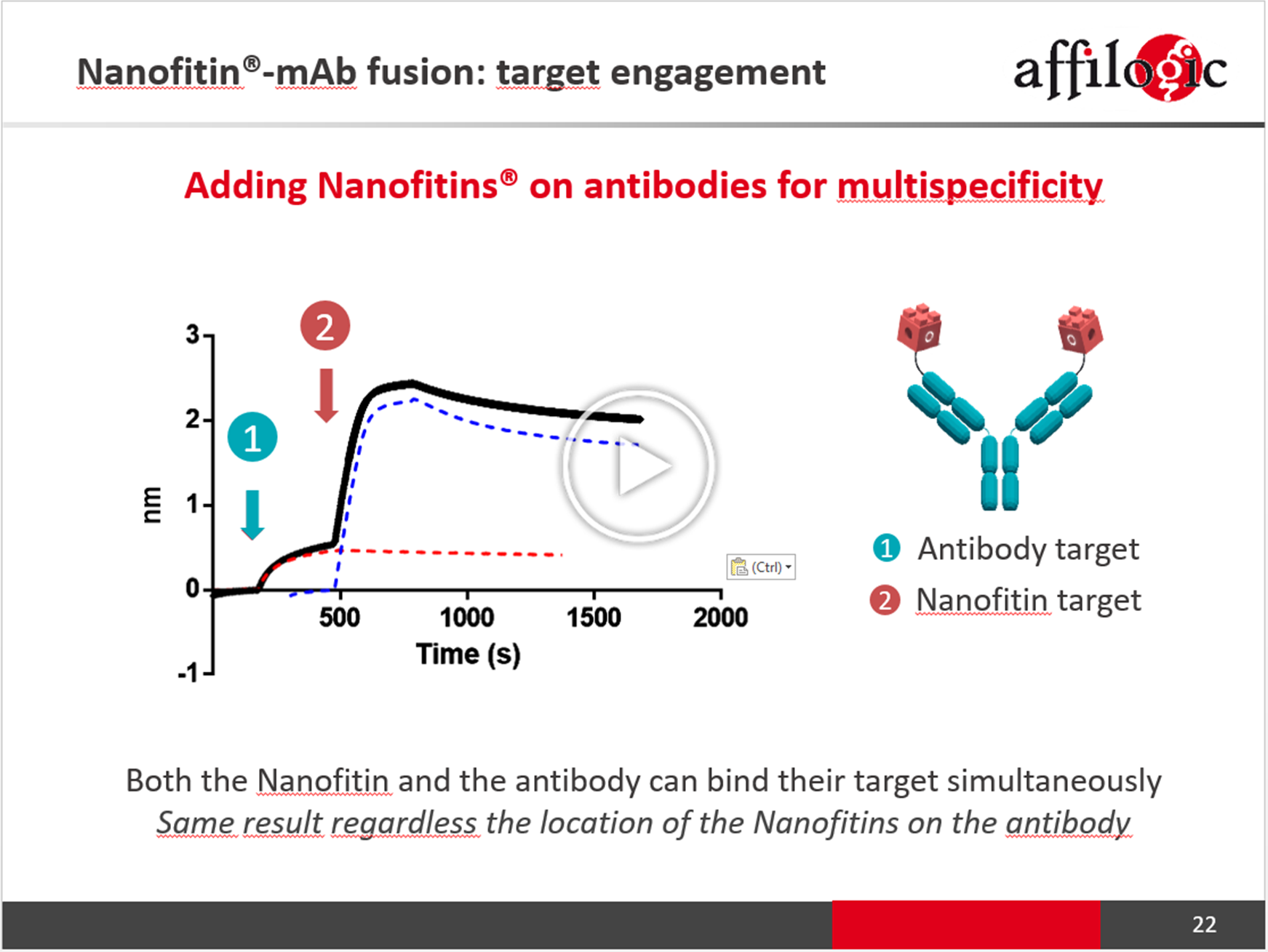 ---
Takeda opens a new research center in San Diego
San Diego, California, April 2019
On April 30th, 2019, Takeda opened a new research facility in San Diego, California. As a partner of choice of Takeda San Diego, Olivier Kitten, Affilogic's CEO, had the chance to take part in this grand opening and present Affilogic's recent advances in common areas of interest. This research center is home to four research platform groups: structural biology, early target discovery, computational biology and biologics, providing key capabilities to discover and advance promising molecules.
Takeda is a global, R&D-driven biopharmaceutical leader, focusing its R&D efforts on four therapeutic areas: Oncology, Gastroenterology, Neuroscience and Rare Diseases. Takeda collaborates with partners around the world to unlock innovation and deliver potentially transformative therapies to patients.
Since September 2016, Takeda and Affilogic are collaborating to use Affilogic's proprietary Nanofitins® platform in therapies targeting the central nervous system. Takeda and Affilogic are leveraging their respective competencies to validate and optimize Nanofitins® that enable Takeda to deliver biotherapeutic candidates into the brain to address neurological disorders.
"Takeda has world class expertise in central nervous system drug discovery. We are very enthusiastic to work together to develop innovative biotherapeutics for the treatment of neurological diseases" said Olivier Kitten. "Takeda is a partner of choice for Affilogic to significantly expand the number of research programs relying on our Nanofitins® platform advancing into clinical trials. I was really honored to attend this new opening."
---
Affilogic's intervention at the Biologics Series UK 2019
London, UK, April 2019
Dr. Mathieu Cinier, Scientific Director at Affilogic, spoke at the 12th Annual antibodies Congress.
Dr. Mathieu Cinier, invited to speak on the theme of "Bioconjugates – ADC engineering", gave a conference entitled "The Nanofitin® Technology As A Versatile Platform For Cancer Imaging and Drug Conjugates".
Most of the antibody alternative scaffolds claim to benefit from their small size in term of tissue penetration. This comes at the expense of a short serum half-life, which keeps animating debates as regards the actual benefit of using alternative scaffolds to generate drug conjugates. In this presentation, Dr Mathieu Cinier shared our original approach to evaluate in vivo tumor penetration with side by side comparison of the Nanofitin® scaffold technology and a full size antibody to draw some conclusions on how size, and other parameters, do influence tumor penetration, providing then to the audience new insights and perspectives for drug conjugates optimization.
---