Nanofitins® can be assembled in multimers for enhanced avidity or for multi-specificity (up to 5 Nanofitins® as one multivalent compound with retained individual affinity). In every instance, neither the binding property of each single Nanofitin®, nor the function of the conjugate is affected. The creation of new products is then possible by assembling different Nanofitin® modules.
Each Nanofitin provides a unique function to the assembled molecule through its specific interaction with an element of the body. Affilogic has developed modules (i) controlling the residence time in the circulation, (ii) crossing membranes, (iii) targeting specific receptors (iv) penetrating into cells (v) generating toxicity in the cells thus invaded (vi) recruiting immune system …
NanoModule project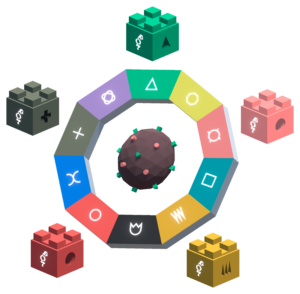 It is possible to address multiple pathways of cancer with one poly functional molecule able to specifically reach and anchor on the tumour, recruit immune cells, reduce angiogenesis…This approach is at the core of the Nanomodule project, conducted by Affilogic and the Western Cancer Institute (Institut de Cancérologie de l'Ouest, Saint-Herblain, France).
Different multispecific assemblies of Nanofitins are developed with a variation of the modules that compose them. In order to potentiate the anti-tumor response, the choice of Nanofitin modules to assemble focuses on those with activities involved in cancer synergistic signaling pathways. 

This project was partially sponsored from January 2018 to December 2020 by a grant from the European Regional Development Fund (ERDF / FEDER) via the Region Pays de Loire.