Affilogic is looking for new partners for custom generation of Nanofitins® as next generation biopharmaceuticals.
The generation of Nanofitins® consists in identifying the best ligands amongst the vast library of variants through in vitro selection. Libraries are screened with many parameters to tune specificity on the target (cross-binding, competition…). This animal-free process is amenable to toxic targets, or non-immunogenic epitopes and the usual selection process yields a number of different monomeric hits with a high affinity down to single-digit picomolar. Our collaboration model starts thus with affordable generation of hits against a chosen target.
Such hits are sent to our partner for internal evaluation in the specific in vitro/in vivo disease model depending on the effect required. After evaluation, the partner elects the lead Nanofitin® (and back-ups). In cases where the Nanofitin® is a potential therapeutic, what comes next is a co-development phase with further optimization of the lead compound by Affilogic and negotiation of milestones and royalties.
More affinity with Affilogic ?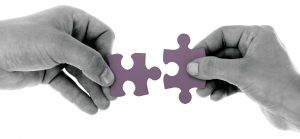 Contact : Nadège PREL
Director, Marketing & Business Development
nadege@affilogic.com