Adding Nanofitins® on antibodies for multi-specificity or targeting
Thanks to their small size, Nanofitins® can be plugged on an antibody at different locations, either as a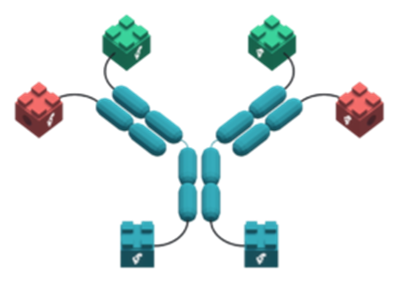 single module or as an assembly, while still providing a minimal hindrance on the antibody that retains its functionality.
Moreover, Nanofitin®-antibody fusions benefit from the high stability and solubility of the Nanofitin® scaffold, providing a developablility advantage. Those plug-and-play constructions display a manufacturing yield at least comparable to the antibody alone, or even better.
The Nanofitin®-antibody fusions are able to bind the antibody target as well as the Nanofitin® target at the same time.