Addressing GI diseases by oral administration
The major impact is to enhance patient compliance with patient-friendly systems and a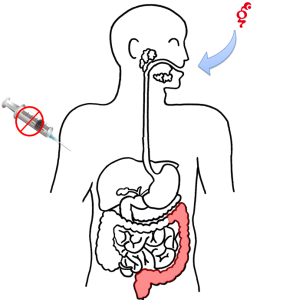 lleviate the economic burden of biologics traditionally administered IV.
The extreme stability of the Nanofitin® scaffold allows the generation of anti-TNF-α therapeutics with a powerful preventive and curative anti-inflammatory action after oral administration in mice. Drug development of the lead Nanofitin® is pursued in collaboration with Ferring Pharmaceuticals within the SADEL FP7 European project. First-in-man is expected in 2017.
Addressing skin diseases by topical administration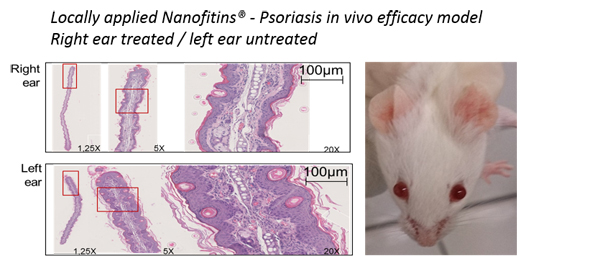 Affilogic demonstrated skin permeability and topical efficacy of different Nanofitin® families in a Psoriasis model (Imiquimod-induced). Both monomeric and dimeric formats were tested proving that bispecific Nanofitins®, directed against 2 different cytokines IL17 and TNFα, could still permeate through mouse skin and trigger a reduction of the Psoriasis-like inflammation.
Addressing eye diseases through needle-free administration
Affilogic proposes flexible drug-delivery solutions into the eye thanks to the demonstrated compatibility of Nanofitins®  with various optical devices : gels for acute treatment or contact lenses for controlled release.
Nanofitins® exhibit in a Ussing chamber model the same corneal penetration as small molecules 25 times smaller.
Addressing pulmonary pathologies by inhalation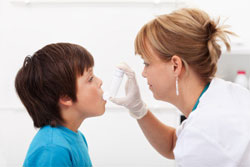 One of the key advantages of such Nanofitin®-based drugs is a higher affinity and specificity than small molecules administered by inhalation. Another key advantage comes from the combination of a small size, high solubility and extreme stability making Nanofitins® both easily druggable for this route of administration and able to deliver at a higher dose than what is achievable by conventional antibodies. Out of 36 antibodies currently developed in pulmonary indications, none is intended to be inhaled.